Bruce Van Dyke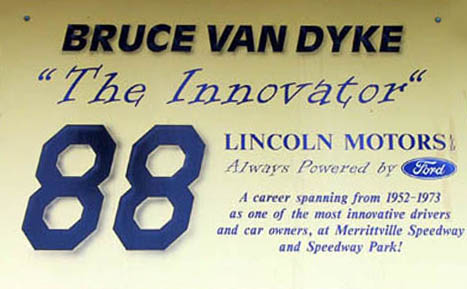 Bruce Van Dyke was one of those owner-drivers who was very innovative and not a person to follow the norm. His first love was flying, however he gave that up and pursued a new hobby; the new sport of Stock Car Racing.
Bruce got his start at Stock Car Racing in 1952, the year that Merrittville opened. In 1954, Bruce raced at both Ancaster and Merrittville, winning his first trophy at the Thorold oval that year in a 1937 Ford Coupe sponsored by Ontario Auto Supply.
Bruce and his wife Ruth lived at #7 Court Street in St. Catharines, Ontario were he continued to rework and improve his Ford flat head racers. Bruce continued with much success as a front runner racing flat head Fords through the 1957 season in a 1937 Ford sponsored by Henley Motors. During 1958 Bruce was one of the first pilots to move up to the 272 cu. in. Ford overhead valve V8, driving a 1938 Ford Coupe in the blue and yellow colors of Taylers Sunoco.
During 1959 Bruce not only moved his family to Merritton but also started to experiment with unconventional cars; realizing that horsepower wasn't the only key to winning. In 1959 Bruce built the #88 1949 Ford Club Coupe full bodied stock car. This car started out with a conventional suspension but Bruce started to design his own suspension utilizing coil springs. Sometimes it worked and sometimes it didn't. This car was successful against the coupes of it's day and even ran against the bugs on the dirt at Lancaster Speedway.
During 1960 Bruce would again move his family to Stoney Creek and continues to formulate and innovate with his racers and in 1959 and 1960 he even went to the first two Daytona Races as a spectator. However, during 1961, a spectator no longer he built a 1953 Studebaker low boy modified with a 430 Lincoln Engine with six carburetors. They towed the new car all the way from their new home in Stoney Creek to Daytona Ohio and was fast enough to start 10th; however with him not being a NASCAR regular he had to start 31st.
The first 30 spots were 'reserved' for NASCAR regulars. The Modified flew around the 2 1/2 mile oval; an experience that Bruce will never forget, however with two laps to go the car broke and didn't complete the event. Bruce proved that he could race on the high banks and towed the car home, never to be raced again. By the way, that was the same year that Cam Gagliardi from Lockport NY also ran the race.
Bruce came home and concentrated on his career as a dirt track racer and in 1962 built his first offset chassis. From the outside it was a 1962 Ford Galaxie but from the inside it was probably one of the most radical designs of an offset dirt sportsmen. The car had the engine mounted in the left where the driver would sit and Bruce sat directly to the right of the engine the whole driveline was offset to the right for better weight distribution. The body on the car was salvaged from a 4-door New York City taxi and this made for one large and fast racer.
Bruce's working career as a construction engineer was definitely showing and by 1966 he unveiled, in my mind, his most memorable racer. This car was a long wheel based 1966 Ford Galaxie Coupe mounted on the refined offset chassis of the previous car with many improvements to the chassis, cooling and horsepower. The engine to the left; this time a 427 cu. in. Ford engine (room for 2 power plants if rules allowed), and Bruce to the right. The No. 88 Stock Car with all new Ford Sheet Metal sponsored by Lincoln Motors Ltd. of St. Catharines gave many of the coupe pilots fits.
Bruce was a firm believer in performance being a function of weight distribution and not horsepower. The weight distribution allowed Bruce to get on and off the throttle quicker in the corners and be extremely competitive against the conventional coupes of the day. At times he ran a basically stock 392 cu. in. Ford engine in the car and out-ran the competition. The only weak link in the car was the short axle which would take a lot of the torque and thus break; but Bruce was working on a solution. With many new ideas and his own designs and labour the cost of this most innovative racer totaled $2,500.00.
Bruce was always a Ford pilot; long after the others drivers moved to Chevrolet. He stated that "Any idiot can run a Chevrolet… it takes a fool to run a Ford." During 1966 and 1967 the Galaxie ran all over the US and Canada; both at Speedway Park and Merrittville as well as Humberstone with invitationals at Salem, Indiana; Langhorne, PA; and Syracuse, New York. Bruce even raced one rough dusty Sunday afternoon in the clay at Cayuga Speedway in 1966.
During 1968 Bruce could see the writing on the wall and rather than change his car he built an asphalt chassis since the offset dirt cars were being banned in the US and the Super Stock division was introduced in Ontario. Bruce would run the #08 at: Flamboro, Nilestown, Delaware, Lancaster and Holland with some success. One of his prettiest cars was the light yellow Torino fastback; a more conventional car that won a 100 lap championship at Flamboro. This car was conventional as far as a chassis and engine placement go but Bruce was one of the first short track drivers and builders to use a 'big block Ford'.
From 1970 on Bruce continued to build and experiment with designs and thus abandoned his role as driver, putting Terry Kitchen in the seat. Again costs started to escalate but Bruce could keep his costs down by building and fabricating many of his own parts.
By 1973 the costs of a first class race team escalated close to $50,000 for asphalt and Ford racing parts were hard to find since Ford was officially out of racing. After a blown engine at Flamborough one Saturday he loaded the Mustang racer one last time, headed for home and announced to his wife Ruth that they were out of racing at 2:30 AM. This occurred during the third week of September 1973.
Rather than switch to Chevrolets the Van Dykes decided to retire their team since their whole career had been based on Fords; one of the few to stay loyal to the brand.
The Van Dykes continued to prosper in Stoney Creek where Bruce continued his engineering career while he and his wife raised their daughter Linda who now resides near Bismarck, Ontario. A recent visit to their home made me realize just how precise and innovative Bruce Van Dyke the racer was. He was never one to look back, but always to his next technical challenge.
Many of us remember the night at Merrittville when a gas tank off of Denny Deagle's racer became trapped under Bruce's car. Immediately Bruce's car erupted into flames with a trail of flames left around the oval. Again this is only a memory to Bruce, a scary one, but nothing to dwell upon. He cleaned up the car in the pits and tried to finish the night.
Bruce spent the last 10 years of employment in the engineering department of Dofasco until retiring in 1991. His family's passion since retiring as a race driver has been snowmobiling. He and his family have spent many years of trial riding and he continues to ride his Yamaha today looking forward to the snow. He is a present member of the Mount Forest Snowmobile Club and spends at least one day a week riding a variety of trails two hours from home. Not bad for a man soon to enter his 68th year!
When it's not snowing Bruce an Ruth head for many different locales, via their motor home, with over 200,000 miles on it, it definitely doesn't sit in the driveway. Here's to the Van Dykes; "May you continue to enjoy many more years of trail riding, both snowmobile and motor home and THANKS for your hospitality!"
Courtesy of Merritteville Memories by Rick Kavanagh