Page 2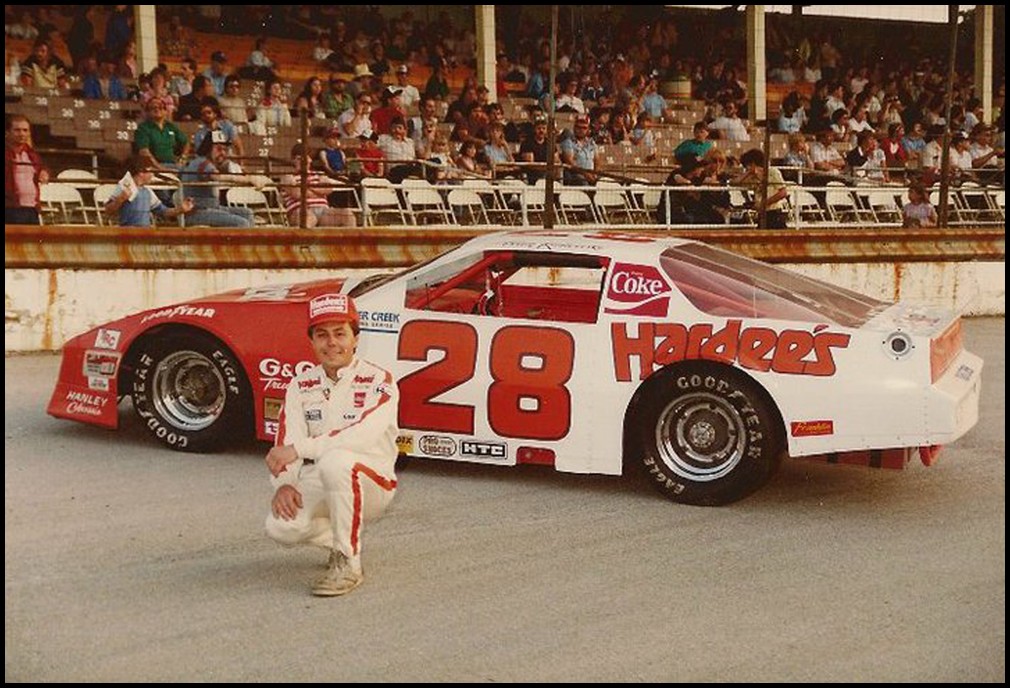 Mark Martin recently appeared on Dale Earnhardt's podcast and said that Jr. Hanley and Gary Bolough were the two people that really pushed him about weight and aero on cars.
During this time with his business growing, it forced him to cut back on his racing schedule and concentrate on his customers. Even though he was racing less he continued to win his share of races and major events at almost all of the tracks he has raced at.
Please understand that I could not possibly list the hundreds of wins and the many open show victories in Canada and the US that Jr. has amassed during his career in this essay.
Here are just a few of Jr.'s racing highlights during his career:
In 1977 one of his first major victories was a 150-lap race at the one-mile Trenton International Speedway in New Jersey. Although this was an important win for Jr. his focus was on short track racing.
NASCAR Late Model Sportsman Race Winner at Pocono Raceway
McKerlie – Millen 200, Delaware Speedway London Ont.
Summer 100, Sharon Speedway Ohio
Molson 150, Checker Flag Speedway Windsor Ont.
Goodyear Maple Leaf 250 Winner, Cayuga Speedway
Coors Tour Molson 300 Sanair Super Speedway
Labatt National 250 Winner, Laval QC
Flamboro Speedway Coca-Cola Twin 75's
Flamboro Speedway Kralinator Triple 50's
Flamboro Speedway Octoberfest Twin 100's
Numerous wins at the New Smyrna Speedway World series of Auto Racing in Florida
National Short Track Championship, Rockford Illinois
Can – Am Challenge, Lancaster Speedway NY
Ohio State 500, Columbus Ohio
The Main Event II, Sandusky Ohio
Busch Champions Challenge Race Winner, Sharon Speedway Ohio
Octoberfest 200, La Cross Speedway Wisconsin
American Speed Association Wins: Owosso Michigan, Tri-County Speedway, Cayuga Speedway (2)
Glass City 200, Toledo Ohio
NASCAR Winston 100, Mount Clemens Michigan
Won the first Cracker 200, New Smyrna Speedway in Florida
Held many track records during his career
Halifax – Dartmouth International Speedway Modified Division Champion
Canadian Maritime Provinces Series Champion
Cayuga Speedway Champion 1975-1976
Ontario Racing Association Super Series '84 Champion
Track Champion, Mount Clemens Speedway
Track Champion, Toledo Speedway
America Canadian Tour Champion, 1991-1992-1993
Iceman Series Champion, 2001
Jr. had also become one of the most versatile drivers around competing with the likes Richie Evans and other top tour type modified drivers at New Smyrna Speedway in Florida.
He built and drove Danny Knoll's NASCAR Tour type modified at New Smyrna Speedway, in 2001, winning twice including a 50-lap race and beating the likes of Ted Christopher and Jamie Ptomaine.
Jr. is rated #2 of the all-time top drivers to compete in the New Smyrna World Series behind the late Richie Evans. Jr. had 50 total wins, 47 in Super Late Models and 3 in Modified. (Mark Martin was ranked 51st).
Jr. won the 1980, 1981 and 1990 World Series Championships.
Although he had numerous chances to go south and compete in NASCAR'S top series he chose to remain a short track racer. Being a fiercely independent man, he knew that a lot of the decisions that would be made would be out of his control. Jr. would not have been able to work on the cars as much and being a hands-on guy that was something he did not want to give up.
By 1989 Jr.'s desire to focus more on racing became a reality when he sold Hanley Racing Enterprises to Jim Ward.
Thus began the second phase of his driving career that took him to new heights of success.
Jr. started off by traveling to Phoenix Arizona in 1990 for the first time to compete in prestigious Copper World Classic race weekend. He was a relative unknown to many that day and once the dust had settled Jr. was the race winner beating the likes of AJ Font, Ron Horn day, Rick Corelli and other Southwest Tour stars. They knew who he was after that win!
Jr. competed full time in the 1990 ASA season. He won the Badger land 150 at the famed Milwaukee Mile and finished 5th overall in the point standings.
Jr. returned to Phoenix in 1991 with a new car. He saw loopholes in the rules and built the car accordingly but track officials didn't like what they saw and wouldn't let him run it.
He loaded up and was going to leave for New Smyrna Speedweeks when Rick Carelli's car owner, Marshall Chesron, offered him their backup car. Jr. was hesitant to run it fearing it might get wrecked but they told him as long as he came back with the steering wheel, he could run it. He won again with Rick Carelli finishing second and Ken Schrader in third!
The All American 400 at the Fairgrounds Speedway in Nashville Tenn was a race that Jr often competed in. At times he would be in a position to win but luck wouldn't always go his way. In the 1978 race Jr. stepped in as a relief driver for Danny Bird with 200 laps to go. He unlapped himself and won the Marty Robbins 500 as it was known then.
Jr.'s best chance to win came in 1991, he led 81 laps and on the final restart he got boxed in and finished 2nd to Jeff Purvis. After post inspection Purvis was disqualified by NASCAR and Jr. was declared the winner. Later that week NASCAR reinstated Purvis and put Jr. back to 2nd place. Jr was not impressed but he had beat some of the best drivers there – Darrell Waltrip, Bill Elliot, Dick Trickle, Bobby Hamilton, Jody Ridley and Bob Senneker to name a few.
Early in 1991 Ford Motor Co and Molson Breweries reached out to Jr. with an offer to Sponsor him in the American Canadian Tour (ACT) that was sponsored by General Motors. Quaker State continued their longstanding sponsorship with Jr. throughout the ACT years.
For the next three years he dominated the GM, ACT series winning the GM National Series Title in 1991 and the ACT Championship in 1991, 92 and 93. Jr. won 7 of 21 races in 1991, 10 of 23 in 1992 and 12 of 21 in 1993 for an impressive total of 29 wins in 65 races.