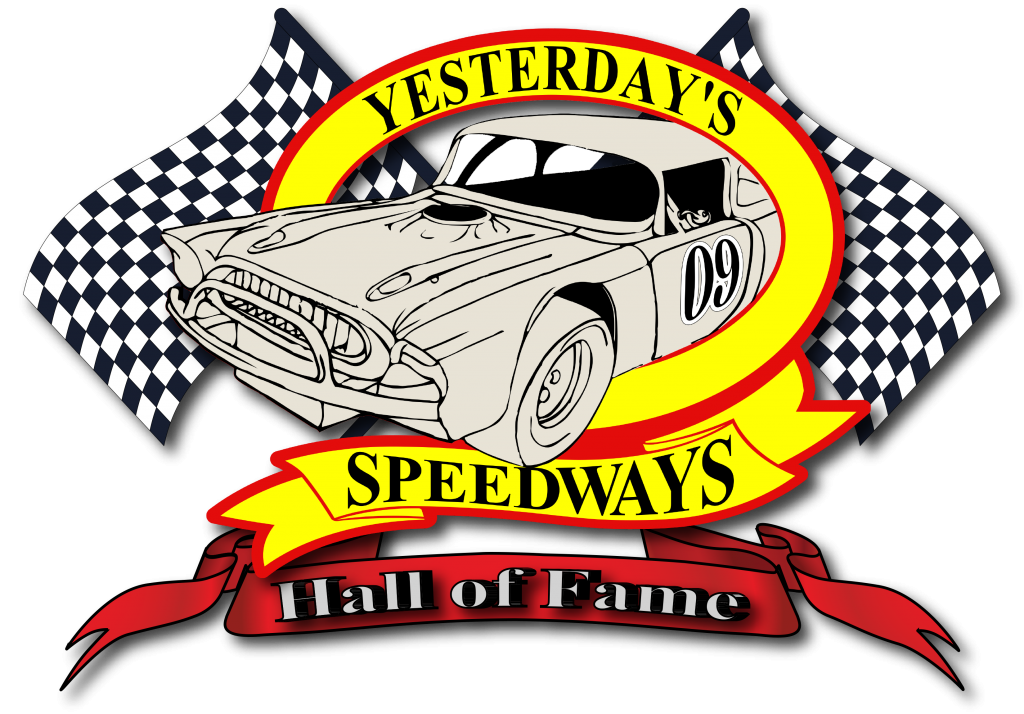 Jimmy Howard
Jimmy Howard (a.k.a. Gentleman Jimmy Howard, The Professor, Jesse James Howard and Sonny Plym).
Jimmy loved to dance. So did Annette Smith. They met at the Blue Haven dance hall in Stoney Creek in 1941 and married later that year. In 1944, a daughter Susan was born, two years later a son Robert was born and (20 years later) another son was born. He was named Gary, after Gary Witter, of course.
The racing career of Jimmy Howard started in 1950 at the Ancaster Fairgrounds in Hamilton. Jimmy ran into a friend of his who told him about the exciting night he had the night before at the car races in Ancaster. Jimmy was intrigued. He decided to go and see a race. He enjoyed the speed and excitement of the race and thought to himself "I think that is something I could do".
In 1950 Jimmy was working for Quigley Construction in Hamilton. The owner, being a sports fanatic, listened to Jimmy talk about getting an old car to fix up and race with. He told him to go ahead and find one because there was plenty of room for him to work on it in one of their buildings. Jimmy went out and got a '36 Dodge with a flathead six Doge motor in it. He became a Chrysler man because back in the late forties, he made his living turning wrenches at a local Chrysler dealership.
With a little fancy footwork, he was able to get his hands on the warranty motors that would, under other circumstances, go to scrap. Being a good businessman, he realized that it did not make sense to go out and buy Ford or GM motors when the Dodges were free. Important to Jimmy's way of thinking, the Dodges had a four spring setup for suspension compared to the Ford buggy springs and he was certain he could make a better handling car out of the Dodge.
When it came to the colour scheme, since the owner of Quigley Construction was paying for the paint and since he was an avid fan of the Hamilton Tigercats, when the paint arrived at the shop it was the familiar black and yellow of the Tigercats. Jimmy promptly painted his old '38 dodge black and yellow. From then on, the Howard racing colours would remain black and yellow throughout his career.
Finally, off to Ancaster he went and became a race car driver. During the 1950 and 1951 seasons he dominated the Ancaster, Brantford, Paris, Bridgeport tracks and at the end of the '51 season he was crowned Track Champion at Bridgeport, the first of his many championships.
In 1952 he built an all new 1938 Plymouth Coupe and entered in his very first feature on Good Friday at the CNE and finished an incredible 5th. Throughout the season he was a constant threat and when the checkered flag fell, it was often Jimmy Howard on the receiving end running ahead of the Ford powered cars. He also continued to run at Bridgeport, Paris and other Hamilton tracks, honing his skills as a race car driver and car builder.
In 1954 Jimmy became a full time racer. Tired of turning wrenches for the Chrysler Dealership and earning some decent dollars at the Speedways, running 3 and 4 nights a week, he set up shop in his new garage at 147 Beach Blvd. in Hamilton and Howard Engineering was born.
Some of Jimmy's Career Wins
In 9 years won the Championships at Bridgeport 5 times (1951, 1954, 1957, 1958 & 1960).
C.N.E. won The Most Popular Driver Award (lost track of how many times).
C.N.E. 1958 & 1959 Track Champion (first driver to win back to back Championship Titles)
1960 First Canadian to win the CNE International Championsip race.
In 1965 Won the Flamboro & Delaware Championships
In 1965 The Most Popular Driver Award at Flamboro.
1968 Rookie of the Year at Oswego, New York.
1994 Inducted into the Canadian Motorsports Hall of Fame.
Back in the late '50's Jimmy also built car #19 for a young fellow by the name of Gary Witter. Gary would go on to win many races and Championships for Jimmy. He also built car #28 for Bob Mcgillvray.
1968 marked the first time in three years that Jimmy had been behind the steering wheel of a race car. Jimmy spent three years designing and building a rear engine machine. He was an avid follower of the Indianapolis rear engine cars. He spent his time reading all types of literature and specifications to try to come up with a rear engine car that would work on a short track. He kept designing and redesigning certain parts, then he'd make the patterns for the final steel part. He spent most of the next two years assembling all the pieces and came up with a four wheel independent suspension car with a Dodge fuel injected engine in the rear. Anyone who was up close to it couldn't help but rate it as a mechanical masterpiece.
Howard became the first driver to win a race at Oswego driving a rear engine car. In fact on the night Jimmy had his car running it's strongest he won both his heat and semi. Unfortunately he had used his good fortune prior to the feature. Like so many before, Jimmy pretty much destroyed his machine up against the unforgiving inside hub rail at Oswego Speedway.
Jimmy, at the age of 45, was named 1968 Rookie of the Year. It was at this point that he decided enough was enough. The rear engine was sold and he concentrated on the car of Gary Witter, who was then making quite a name for himself at Oswego.
It took another year or so, but the trek to Oswego each weekend became a real chore. When the offer of a serious dollar contract to develop some specialized automotive manufacturing machinery came up, Howard Engineering stopped being a race car shop, and started working on money making projects. He also sold the last Witter driven super.
Jimmy's new passion became his boat. He spent more and more of his time at the Macassa Bay Yacht Club each summer, and before long acquired his current fibreglass ocean going cabin cruiser. Typical of his approach, Jimmy is never content with the status quo, the boat was now running twin Dodge 318's, one of the fastest boats on the Bay. To say the least, he wasn't a favourite of the Harbour police.
Jimmy and wife Annette had many years of fun on the Lady Lee. But sadly, Annette had a stroke in 1998 and passed away. Jimmy's eye sight started fading and in his 95th year he spent a short stint in a nursing home before passing away. Jimmy always said if the day came that he couldn't work any more, he would die, which is exactly what happened.
Submitted by daughter Susan.  Seeing that I was so young when dad raced I had to rely on articles I read about him in my scrapbooks. All I knew was that he won a lot of races and a lot of trophies. I also found a diary dad had kept of every day he raced.  Very interesting reading. After mom passed away I spent many a day sitting with dad in his beloved garage.  He loved reminiscing about his racing days, his mind remained as sharp as ever.
Courtesy of Susan Howard Scobie