John Henry (Smilin' Jack) Greedy
1928 – 1988
Wife
Doreen Greedy
Children
John, Lynn, Norm and Susan
Jack's Racing Career
Started his racing career in 1954 in the jalopy division and won Rookie of the Year at Pinecrest Speedway.
Jack got married to Doreen in 1955, purchased a house that was destroyed by Hurricane Hazel. They began renovating and starting a family. Luckily there was 4 rain-outs over his career to start a family, which consisted of 4 children, John, Lynn, Norm & Susan.
During 1955 and 1956 he concentrated on building up his construction company, family & the house but racing, was still in his blood.
Jack returned to racing in 1957 to compete at both the CNE & Pinecrest Speedways until 1961. Jack was injured and Bill Cromb drove his car under # 11 in 1961.
Once again, after his injury, Jack returned to racing in 1962 and in 1963 and captured the final track championship at CNE in top Modified Division. Occasionally competed at Bridgeport & Ottawa to fill the voids.
Management of Pinecrest & CNE had decided to have Late Model cars that resembled factory produced cars (in Jack's word's Taxi cabs) leaving the Super Modifieds to move on to Flamboro, Delaware & Nilestown Speedways.
He was known as "Smilin' Jack" during the period of 1964 to 1967 dominating the competition. "Smilin' Jacks", pleasant yet devilish personality on & off the track with pranks of all kinds.
Jack's crew consisted of Jack Moulton (Mouldy), Doug Jones (Jonesy), Jack Mougenel (Mouse) father-in-law Eric Cheeseman (Cheesie), Ron & Wayne Moulton along with Bob Koestner & Bob Moore. Together they captured many features, track championships and invitational events.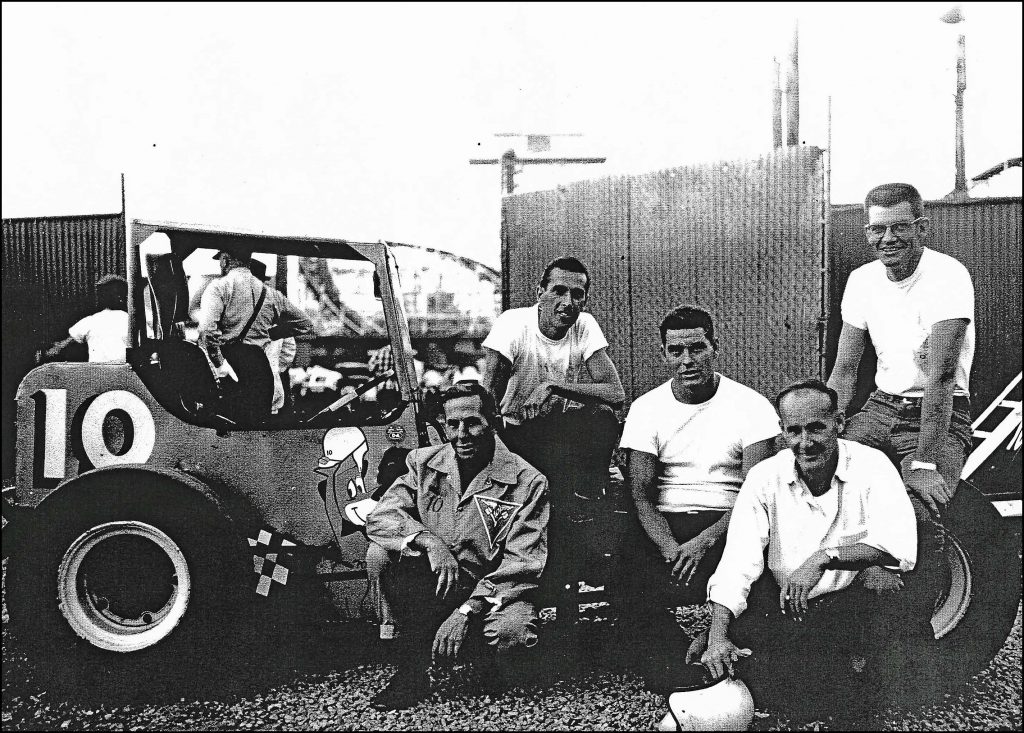 When asked by Dizzy (Dean) Murray about starting on the pole by time trials or if the current points leader, Jack commented, it takes a lot of the fun out of it when in regular nights racing the current points leader starts at the back of the pack to match wits, speed, car set-up by the crew & driver capabilities to call it racing rather than just going as fast as you can with open space until traffic encountered.
It also takes a lot away from the fans who watch their favorite driver come from their starting position somewhere in the starting line up.
Some of Jack's crew worked in the construction company so if the car was damaged it became a priority to repairthe car first the construction projects could wait.
In one season they competed 3 nights a week at Nilestown on Tuesday, Delaware on Friday and Flamboro on Saturday.
During that period 1964 to 1967 Jack and his crew ventured to Oswego Speedway to compete in the Labour Day, Oswego Speedway Classic weekend finishing 4th in 1964.
In 1968 Flamboro and Delaware followed Nilestown who in 1967 went with the late models leaving the supermodifieds no-where to compete in Ontario. At that point, Jack, the family and crew were off to Oswego with an up-right chassis.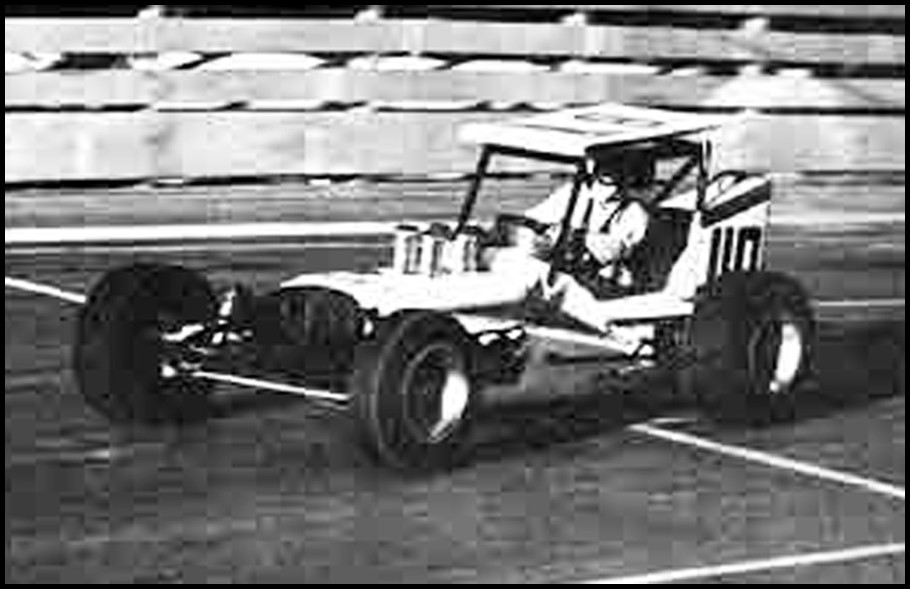 Upon arriving to compete in 1968 they were no match for the Roadsters that competition had, Jack did not like being in the rear of the field. Jack purchased an Indy roadster and his crew quickly adapted the car for Oswego finishing 6th in the first night out with new car.
All of this with the construction company to operate & a young family, so campers of every description were purchased and modified with Doreen constantly looking after the crew & the family.
Dedication from Doreen & the crew was so instrumental in the success of Jack as well his employee's with the construction company that allowed him the free time to concentrate on the racing career.
If racing and having the construction company and family wasnt enough Jack purchased an interest in Delaware Speedway and with his partner they decided that Super-Modified racing needs to be back in Ontario.
The ¼ mile paved oval was demolished with a new ½ mile built along with all new grandstands, press tower and concession booths.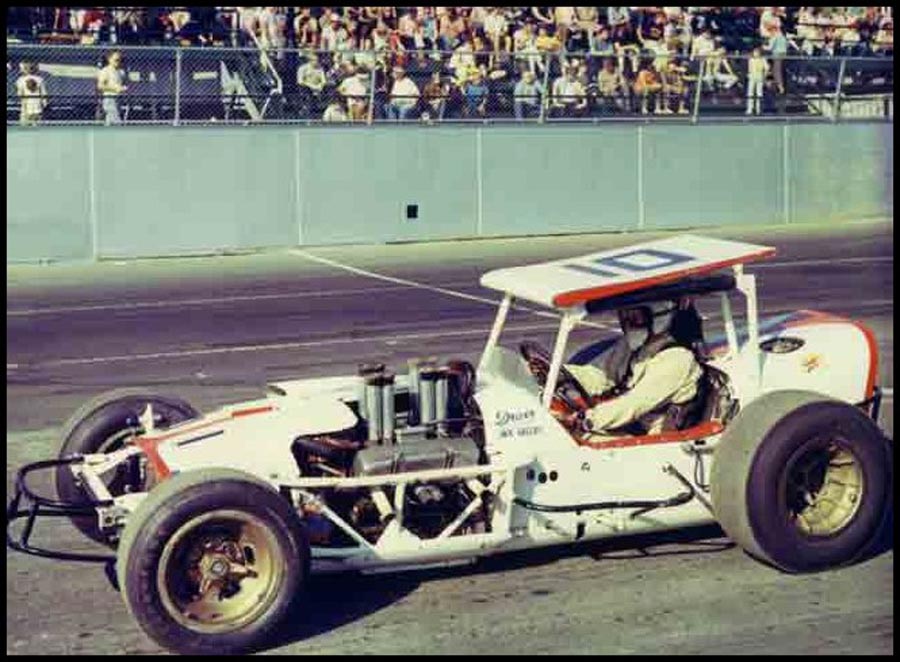 During the 1969 season Jack competed regularly at Oswego Speedway while overseeing construction of the new Delaware Speedway. Jack won his only feature at Oswego in 1969, finished 4th in the Oswego Speedway Classic and had decided to retire from driving.
The car was sold to Harvey Lennox, but Jack had a few more nights at Oswego to end the season. It was during one of these last nights of Jacks driving career that he was involved a spectacular crash completely destroying the car, but to no avail the crew re-built the car as good as new as had always done in the past.
Grand opening of the new Delaware Speedway was Aug 22, 1969 with a full grandstand and all his friends and competitors from Ontario, Michigan, New York & Ohio on hand. 1970 was the first full year of Super-modifieds back in Ontario.
Jack continued to operate the track but had to face reality that the Americans did not want to travel to Delaware on Friday night and back to Ohio, Michigan or New York state to compete at their local tracks on Saturday night.
Jack the promoter now decided he too had to move on to Super Late models, Limited Late models and started a Rat Racer Division for the low budget racer to get started.
Carling's was involved with Nascar racing so Jack built a garage on the Delaware property for the race team as well as starting a safety program on the site. Jack worked with Carling's as management of the race team until the Nascar program was abolished to sponsor only local racing.
Coca Cola took over the sponsorship from Carling's which Jack again was heavily involved with as well in management.
Export "A "began to sponsor a series through-out Ontario for theSuper Late Models which Jack was again quite involved.
Jack decided to sell Delaware in 1975 but that was still not the end to Jack's involvement in racing.
Jack had purchased the Nascar Monte Carlo car that competed in the US which was used as a show car in shopping malls, new car dealers and car shows to promote Delaware Speedway. Many Stars from the Nascar circuit who visited Delaware were given this car to compete at the track with the most expensive motor money could buy.
Jack then decided to pass on the torch allowing one of his sons to race the Monte Carlo. Jack knowing this car was just too big and heavy to compete in the short track circuit purchased a Camaro for his son.
Jack was devoted to the sport of stock car racing in so many ways from driver to promoter to owner.
Jack is a inductee to the Canadian Motorsports Hall of Fame and now an honour to be inducted into the Yesterday Speedways Hall of Fame.
It unfortunate that Jack himself and so many other owners, drivers and promoters are not able to attend these ceremonies in some way they all know that they are remembered by their peers and fans who have touched them in so many different ways.
Courtesy of John Greedy